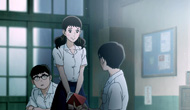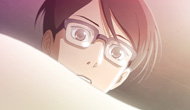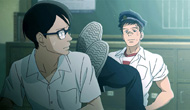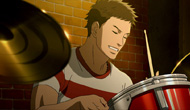 It has been two years since megahit series Nodame Cantabile was completed. And now, noitaminA is proud to present the next music anime series that's destined to be a classic!
Director Shinichiro Watanabe (Cowboy Bebop, Samurai Champloo) is helming the anime version of Yuki Kodama's comic series, Kids on the Slope (serialized in Shogakukan's Monthly Flowers), a vibrant coming-of-age tale about the friendship of two young men and their mutual love of jazz music. Moreover, Yoko Kanno is in charge of the music. Watanabe and Kanno's collaboration on Cowboy Bebop drew attention and accolades in the past, and now this dream team is together again! Various jazz masterpieces will accompany images of the sparkling springtime of the characters' lives.

Yuki Kodama's Kids on the Slope (serialized in Shogakukan's Monthly Flowers) is set in the 1960s against the backdrop of burgeoning modern jazz and freshly explores the friendship, love, and music shared by its high school student main characters. This series has the distinction of winning #1 in 2009's This Manga is Awesome!, women's comics division and though it is indeed a "girls' comic", male readers have also been won over by the male bonding and coming-of-age aspects of the story. The comic series is supported by a broad base of readers that has high expectations of the anime version.
On January 23rd, 2012, as Kids on the Slope had its biggest exposure yet as a winner of a Shogakukan Manga Award (general audience division), it was announced that the anime production was underway!

The story of Kids on the Slope really starts rolling when the classical piano-trained Kaoru encounters Sentaro and falls head-over-heels in love with jazz. One thing to look out for is the performance scene of an excellent jazz piece in every episode. Up-and-coming young jazz musicians are employed here, with Takashi Matsunaga (Kaoru) on piano and Shun Ishiwaka (Sentaro) on drums. Yoko Kanno produces the sessions, which are then used directly for the anime.
Jazz standards like "Moanin'", "My Favorite Things", and "Someday My Prince Will Come" are played along with improvisational performances that reflect the mood of the characters at the time, whether they're in high spirits, or feel lonely, confused, angry, and so on. How these occasional performances and feelings are portrayed and directed is one more highlight of the show. Director Watanabe's "sessions" are a mix of images and music, so innovative and exciting visual expressions should be expected.